The ISE in Amsterdam (February 2019), is a special fair where all innovations in the field of sound and visual resources are presented. My first thoughts were: "What a Violence". Impressions and possibilities. From walkable LED floors to interactive screens and 3d projectors, or combinations of these. To give you an impression I have described some special applications in this blog, supplemented with the necessary short videos and photos. Because you really have to see it in order to be able to understand.
Wavy video wall
Walking towards this great wall you will hear from far sound explosions that triggers you. Standing in front you do not know where to look. A great presentation that enhances content and application of products. Now you probably think, great that violence with screens and content, but for us not interesting, feasible and applicable. And yes, you're absolutely right. What inspired me, above all, is the addition of a mirror on the left side. This doubles the impact of the concept in appearance without you knowing only half the presentation are real screens. This is a surprise and application that offers added value to your presentation.
Retractable displays
Strangely I have watch this display work. The screen in the display automatically rolls up and down. This is special because in most cases this is something we do not yet have in our living room. It is a great application to process this in for example a display for a product launch. With good content you can create a stopping effect that the visitor does not easily forget.
Collage of displays
By applying screens in a different way, you can create more attention value. As a result, a message that you carry out will be better received and more importantly memorized. A collage of screens whether this is on a pole or against a wall will make more impression to the visitor than a normal displayed screen.
Transparent displays
By applying transparent displays you can create whole creative presentations. Think for example of a showcase, where images are displayed. And when there is no image shown you have a good view on the product presented behind. Another possibility could be that a bright and clear touch screen is placed on a display and that you can perform actions on a product or a video wall from the clear touch screen. As the example of Audi opposite. I think there is much more possible and that this option is very broadly usable for different communication purposes.
3D projection
That you can do all things with projection is beyond dispute. For several years I have been visiting the Glow event in Eindhoven (Netherlands) where you can see great showcases of 3D projection. Also in the booth you can do some special things with it. Here too, there are various possibilities to create stopping power. Of course the content and the message must be good. If so then you have a very unique mix in your hands. 
Sustainable Solutions
The stand off Aluvision shows a far-sighted look at the application of sustainable solutions. They offer a qualitative system with varying possibilities. Now with the addition of LED modules you can easily adjust the communication in the concept so that you have a very different look on each fair. In the end you will save money, because you do not have to renew the printed panels in another participations. If you go to the fair several times a year and perhaps also with different divisions, you can certainly get budget benefits here.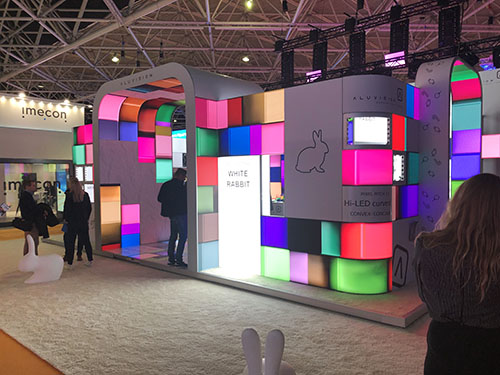 The ISE is really a very inspiring fair where so much is happening, too much to mention it all. Maybe I'll see you next year also on this fair. It is worth it!
 If you have any questions about the blog or would like to see something highlighted, please let me know. Maybe my next blog will be about your question.